Biologist Charlotte Hope spent a large part of her career protecting bald eagles from extinction.
For these symbols of America, her work in South Carolina was successful.
Further good news: While she may be retiring, the volunteers she trained up and down the coast are carrying on with her other passion, to keep loggerhead turtles and their hatchlings out of harm's way.
Hope, an energetic and lively 61-year-old, retired from the state Department of Natural Resources in May where she worked primarily with endangered species.
It's the close of a life's work that spanned more than three decades.
In her wake are firm figures that the number of turtles has gone from about 1,200 recorded nests counted on the South Carolina coast when she started at DNR in 1985 to about 3,000 now on the six beaches that have consistently recorded data.
The eagle numbers are equally stunning. There were about 35 eagle nests in the Palmetto State at the start of her DNR tenure, compared with about 475 when she left.
Blaik Keppler, deputy director of DNR's Marine Resources Division, said it's not an accident that Hope's career paralleled the positive trajectory of both species.
"Charlotte's greatest priority has always been the survival of the animals she studied, and she worked tirelessly and without complaint — often in challenging and unglamorous conditions — to help ensure South Carolina remains a place where eagles soar and sea turtles come ashore each summer to nest ," Keppler said.
Hope entered the biology field during a time when few women served in scientific roles at DNR. Since then, she has mentored and inspired many young staff and students to do similar work, Keppler said.
Bald eagles vesus DDT
When Hope started at DNR in 1985, bald eagles, osprey, brown pelicans and several other large bird species were still trying to recover from the widely used chemical DDT, which drove bald eagles onto the endangered species list.
DDT, developed in the 1940s, was the first of the modern synthetic insecticides, according to the US Environmental Protection Agency. It was used to combat diseases like malaria and control insects in crops, livestock productions and homes.
In short, it was meant to help humans.
But the insecticide created devastating effects on the environment, finding its way into the food chain and affecting birds — including eagles — from producing strong eggshells, thus cutting their reproduction chances.
"It caused egg-laying animals — their shells were so soft, they couldn't incubate," Hope said. "When an osprey or pelican or bald eagle sat down on the eggs to incubate, they would crush" them.
The EPA issued a cancellation order for DDT in 1972. But the effects lingered.
To help in their recovery, agencies like DNR received federal funding to study and monitor eagles to find out how many animals were left in the wild. At the time, the eagle numbers in South Carolina were alarmingly low. Biologists could only find 13 eagle territories in the entire state.
Data would be collected by teams banding, or attaching numbers, to half of the chicks from every nests. It takes five years for a bald eagle to reach adulthood. DNR needed someone to track whether the banded ones survived that long.
"That meant myself and a couple of colleagues had to go to every single nest in the state every winter to see if any of those adults were any of these band chicks," Hope said.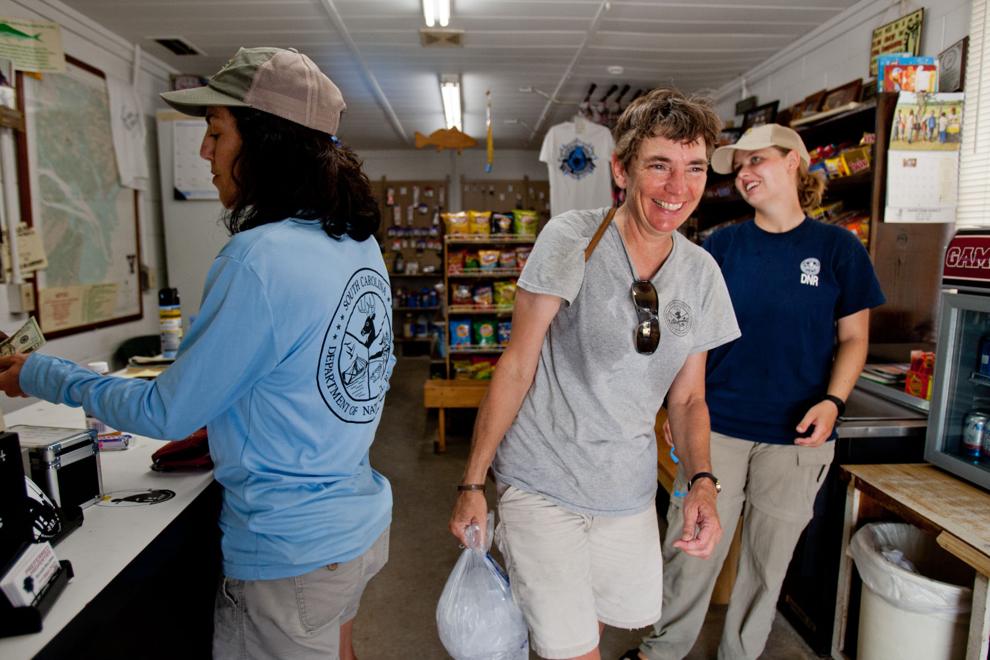 She suspects she spent roughly 6,000 hours staring at eagles and trying to read the numbers on their leg bands.
Many of the populations were found in the Lowcountry due to the abundance of waterfowl, which bald eagles love to feast on.
Over time, Hope's work with the birds included locating nesting territories, determining reproductive status of the animals, banding and monitoring them to determine mortality rates and conducting mid-winter surveys.
She credits the Endangered Species Act for providing the funding and law enforcement needed to aid recovery of the animals.
The law protected dozens of acres surrounding trees that had eagle nests in them. Most landowners who had nesting trees on their properties cooperated with the law and didn't bother them, Hope said.
"(The act) gave us the law enforcement capability to protect these birds," Hope said. "And it also gave us the funds to do the monitoring so that we knew where the nests were and could protect them."
The state is now tracking about 475 bald eagle nests but there could be more, Hope said. Each territory includes two adults and about one to two young eagles a year, Hope said. So the state could have roughly 2,500 to 3,000 eagles. But it's hard to know for sure.
"So they've recovered quite well," Hope said, confirming the DDT ban was beneficial and gave the birds an opportunity to reproduce.
The bird was considered endangered in places other than South Carolina, too. The US Fish and Wildlife Service gave the species this designation in each of the lower 48 states, except for Michigan, Minnesota, Oregon, Washington and Wisconsin, where it was considered threatened.
The birds do not live in Hawaii, and Alaska's population remained robust, the service said.
The endangered and threatened statuses allowed the agency and its partners to assist recovery through captive breeding programs, reintroduction efforts, law enforcement and nest site protection.
Bald eagles have since been removed from the list of threatened and endangered animals but is still protected by the Migratory Bird Treaty Act and the Bald and Golden Eagle Protection Act. These laws prohibit killing, selling or harming eagles, their nests or eggs.
sea ​​turtles rebound
When Hope started at DNR, there was also a declining population of about 1,200 loggerhead nests located on the state's six index beaches. South Island, Cape Island, Lighthouse Island, Edisto Beach State Park, Edisto Beach and Fripp Island have conducted consistent ground surveys on the animals since 1982.
The highest mortality rates were caused by trawling fisheries, such as shrimping and other large scale drag fleets. Animals can get caught in nets when they are drug under the surface.
Development of the turtle excluder device has helped with that. The device creates an escape hole in the net that allows turtles to wiggle out before being trapped with the rest of the catch. A decline in the shrimp industry also decreased the threat, as well.
Each of the six sea turtle species found in the United States are protected under the Endangered Species Act. This means it is illegal to catch, harass, harm or kill them.
The state has averaged more than 3,300 sea turtle nests along the coast over the last 10 years. Loggerhead, Kemp's ridley, green and leatherback sea turtles can be found along shores here.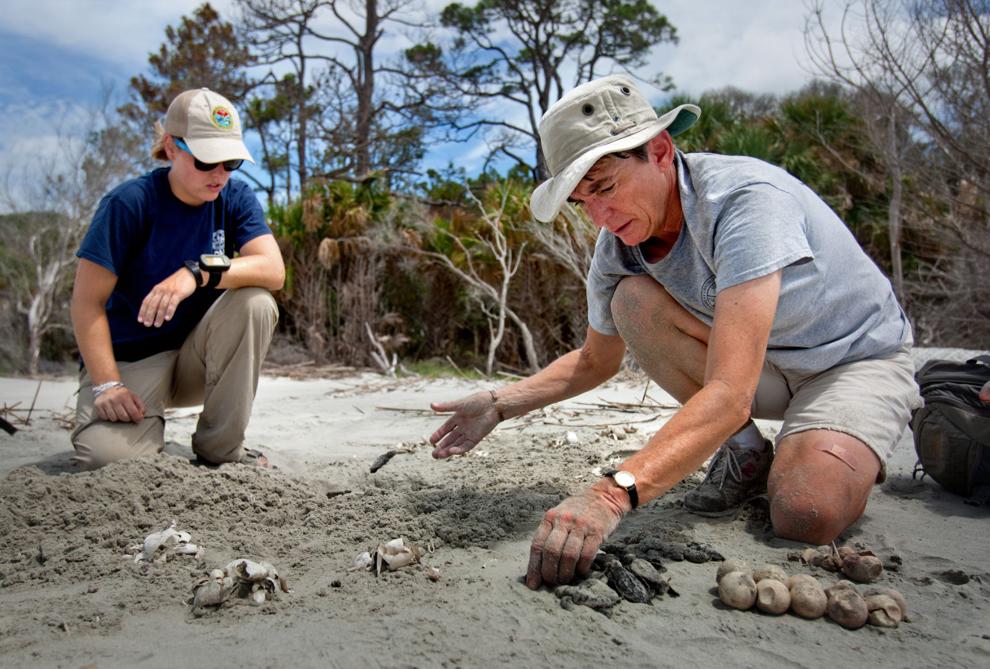 Hope said she believes the state's numbers are bound to improve because with each additional nesting years the average is increasing. This could be credited to protection of nests and the reduction of adult mortality, which is the most important part of sea turtle populations.
Most beaches in South Carolina have local volunteer teams that watch after the animals and their nests. They have helped increase the amount of hatchlings that make it into the water. Before then, a lot were being washed away or eaten by racoons.
There are more than 1,000 volunteers in the state who receive permits from DNR to move nests that might get washed away and install screens if there are predator problems. After the hatchlings have come out, the volunteers can dig up the nests and collect inventory so the state will have an idea of ​​nesting success rates.
Betsy Brabson is one of the many sea turtle volunteers Hope has trained over the years. She lives in the Georgetown area, which was part of Hope's territory.
After 30 years or working together, Brabson can attest to Hope's dedication and passion for wildlife.
Brabson said she distinctly remembers the first time she met Hope. Turtles in the area had nested, and eggs were hatching. Hope was there to do inventory with volunteers along the northern coast.
"She was eight months pregnant digging a deep hole just with vigor and enthusiasm," Brabson said. "And I remember thinking, man, she is really dedicated. She's really into this."
She's so dedicated that it became a normal habit for Hope to take home injured animals and nurse them back to health.
At one point, Brabson said volunteers in her area learned that hogs were eating all of the nests on North Island. She, Hope and a group of others went to the island to figure out how to best protect the nests.
"And while we were over there this particular day, Charlotte found an injured gull … and she said the humane thing to do would be to wring its neck," Brabson said. "But Charlotte — being the kind-hearted person she is — took it home and tried to rehab it."
Hope said that for years her children couldn't use their bathtub because there was either a pelican, sea turtle or some other animal in it. Her children also had rabbits in the house and cockatiels flying around.
"Back then, there wasn't any official rehab places like the aquarium or the Center for Birds of Prey (in Awendaw)," Hope said. "So we were doing all that work, too."
But now, Hope has no wild animals in her home. She has two dogs and a cat and hopes to travel during her retirement.
With a successful career in the books, Hope is most importantly thankful and grateful for her family.
"They've had to put up with a lot," she said.